Resetting your password in the app
Let's start with this basic fact: it's OK to forget your password. We've all been there. And with Photomyne it's easy to reset your password in case you forgot it. Here are the steps:
Access the Login screen via the app's side-menu, and then tap your profile. Alternatively, tap the Profile tab to get tot he same place. Next, simply type in your email address and tap the arrow button.
When the password field appears, right underneath it you'll see the Forgot your password? link. Tap that to start the reset password process.
Left: enter the Profile tab at the bottom navigation bar, type in your email and then the arrow button. Right: tap the Forgot your password link
Now enter your email, and tap the Send button. This will prompt an email message sent to you with a link to reset your password.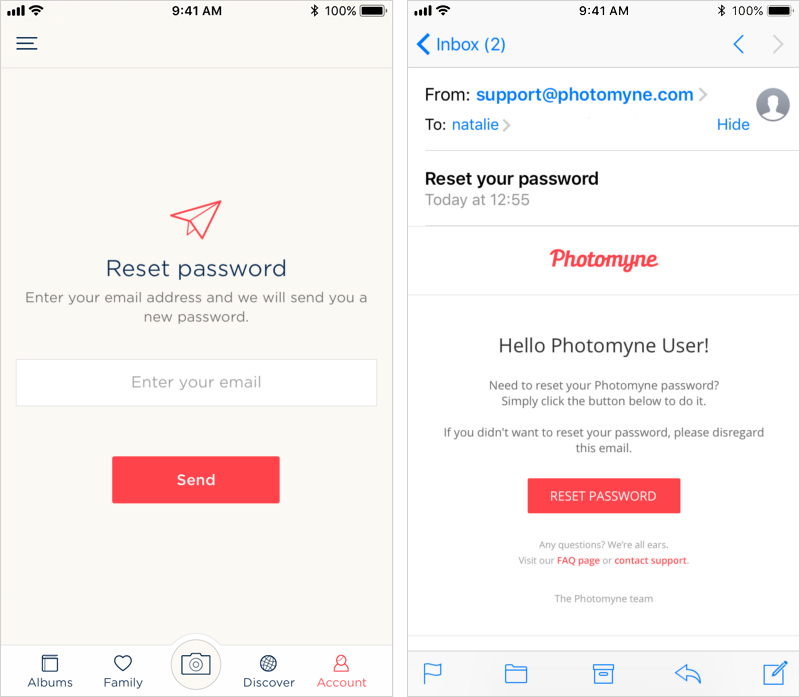 Enter your email to receive an email with a link to reset your password
What if I remember my password, but I want to change it?
Are you already logged into the app but want to change your password for some reason? No problem.
Tap the Profile tab at the bottom navigation bar. Next, tap Edit signup details and then set a new password. To save tap the Check button at the top-right of the screen.
--
Resetting your password online
You're welcome to reset your password while trying to log in on photomyne.com:
First, go to the photomyne.com website and click the Log In button on the top-right:
Next, click the Forgot your password? link under the text fields:
Enter the email address that's associated with your account, then click the Reset password button:
The next step is the same as resetting the password in the app — you'll receive an email message from Photomyne for resetting your password. Simply follow the instructions there and you're good to go:
--
Need help with resetting your password online or in the app? Contact support and they'll help you out.